Artists
Paul Archibald
Paul was a principal player in the Orchestra of the Royal Opera House, Covent Garden, London Sinfonietta and BBC National Orchestra of Wales and was a member of the Philip Jones Brass Ensemble and English Brass Ensemble. He teaches through his own organization, English Music Academy, and throughout his career has held faculty positions at the Royal Academy of Music, Royal College of Music and Guildhall School of Music and Drama. In 2003 he was elected as a Fellow of the Royal Academy of Music, London.
Please visit http://www.paularchibald.co.uk for more information about Paul!
---
Sittichai Pengcharoen
Sittichai Pengcharoen, born in 1966 in Thailand, began studying the violin with Dr. Paradee Traiwittayakul and Dr. Pratak Prateeprasen at the Dramatic Art College of Bangkok, later on continuing his studies with Col. Prof. Choochart Pitaksakorn at Chulalongkorn University.
His early success as soloist with the most notable Symphony Orchestras in Thailand. He was granted a scholarship to study with Rudolf Werthen and Henri Raudales at the Conservatory of Ghent, Belgium. He then went on to the Detmold Music Academy in Germany to study with Christopher Poppen and Ulf Wallin. He was only special fund students of Erick Friedman at Yale University. He also attended master class with many renowned violinists such as Alexander Schneider, Yuri Mazurkevid, Cyrus Forough, Tekeshi Kubayashi, Clarence Materschough, Lucas David, Shoko Aki, Alberto Lysy, Moche Mervich and Linda Rosenthal.
Sittichai Pengcharoen's performances include series of virtuoso recitals of Bach, Paganini's 24 caprices ,Ysaye ,Ernst and as soloist with orchestras.He has appeared as concertmaster Ibycus Chamber Orchestra, Bangkok Symphony Orchestra, National Symphony Orchestra of Thailand,Thailand Philharmonic Orchestra as well as the World Symphony Orchestra in the Republic of Korea. For many years he was a violin instructor at Chulalongkorn University, Kasetsart University and Mahidol University. He currently holds the position vice president and violin instructor at the School of Music, Princess Galyani Vadhana Institute of Music.
---
Alberto Firrincielli
Alberto Firrincieli is an Italian pianist, harpsichord player, composer and scholar. Winner of the second prize in the International Contest "SIMM 2018 – New Music for Harpsichord" with the composition 13 New Variation upon Folia theme. He is currently full-time lecturer of the Department of Music Performance at the Assumption University of Thailand where he teaches Composition and Harpsichord Major. He established the IKA – International Keyboard Academy (www.ika.website), and he is the artistic director of Bangkok International Piano Festival, of the early music festival Note Barocche, and of the ITYO – Italian Thai Youth Orchestra. Moreover, he collaborates with the Italian Embassy of Thailand in the realization of artistic and cultural events.
He is regularly invited as guest speaker, scholar and performer from international institutions in Italy, Czech Republic, Ireland, Portugal, Spain, Thailand, Cambodia, China, Taiwan, Singapore, Malaysia, Australia and United States in order to hold recitals, conferences, masterclasses, workshops.
In 2013 he published "Tribute to Br. Martin", his own composition dedicated to the President Emeritus of Assumption University. In 2017 he recorded a CD with the harpsichord player Mario Tonda (with whom he established the duo Harpsichord for two) for TACTUS, including all Italian works written for harpsichord four hands.
For more info about his activities please visit: www.albertofirrincieli.it
---
Chanyapong Thongsawang
Dr. Chanyapong Thongsawang, Thai pianist and musicologist, received his PhD in musicology at the University of Music and Performing Arts Vienna in 2015. His dissertation was supervised by Prof. Dr. Hartmut Krones at the Institute of Musical Style Research. He was also a guest student under the co-supervision of Prof. Dr. Anselm Gerhard at the Institute of Musicology, University of Bern. Parallel to his PhD studies, he was a postgraduate piano student of Prof. Dr. Margit Haider-Dechant and took part in a pianoforte class of Wolfgang Brunner at the Anton Bruckner Private University in Linz, Austria. Currently he is a full time lecturer at Princess Galyani Vadhana Institute of Music.
Chanyapong was a piano student of Nat Yontararak in Bangkok from 1995 to 2004. Further study followed at Bern University of the Arts in Switzerland with Tomasz Herbut. He also took harpsichord lessons with Dirk Börner and fortepiano lessons with Edoardo Torbianelli. Moreover, he attended a conducting class with Dominique Roggen and Ludwig Wicki. He also studied in the chamber music class of Aleksandar Madzar, Louise Hopkins, Barbara Doll and Patricks Jüdt. He obtained master's degrees both in Music Performance (2008) and Music Pedagogy (2010) there.
Chanyapong has also participated in numerous master classes conducted by renowned pianists such as Uberto Martinelli, Désiré N' Kaoua, Jean Francois Antonioli, Barbara Hesse-Bukowska, Homero Francesch and Martin Hughes.
Chanyapong won the first prize from the 5th Nat-Studio Piano Competition in Bangkok in 1997. He received the excellent prize from the First International Chopin Piano Competition in Asia held in Japan in 2000. Two years later he won the first prize from the 6th Chopin Piano Competition in Bangkok and was invited to perform at the 22nd International Festival "Chopin in Autumn Colours" in Antonin, Poland in 2003. In addition, he has appeared three times at the music festival "Summer with Chopin" in Busko Zdroj, Poland. In 2008, he performed Mozart's Piano Concerto K488 with the New Zürich Orchestra under Martin Studer in Switzerland. In 2010, he performed his debut recital in "Haus der Musik" in Vienna and received the third prize from the 18th International Music Competition Citta di Cortemilia in Italy.
Apart from his musical talent, he graduated with a bachelor's degree in Electrical Engineering at Chulalongkorn University. From 2004 to 2008, he worked as a research assistant in the acoustics division of the Materials Science and Technology Research Institute (EMPA) in Dübendorf, Switzerland.
---
Damrih Bannawitayakit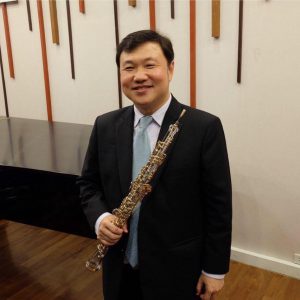 Damrih Bannawitayakit was a principal oboe with the Royal Bangkok Symphony Orchestra. He served as Dean of Faculty of Music, Silpakorn University.
He is currently vice president for administrative affairs at Princess Galyani Vadhana Institute of Music and music director of Feroci Philharmonic Society.
---
Chanannat Meenanan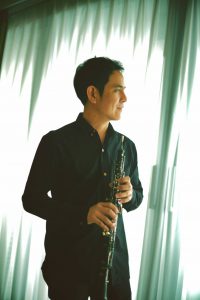 Chanannat Meenanan started learning the oboe at the age of 13 with Channarong Dangkul in Thailand, who then became his oboe teacher all the way through to his Bachelor of Music studies at the Chulalongkorn University in Bangkok. Immediately after graduation, Chanannat was appointed the principal oboist of the National Symphony Orchestra in Thailand. In 1998, Chanannat was awarded a full scholarship to study at the Hong Kong Academy of Performing Arts with Professor Anthony Camden. From 1999 to 2001, he won the Academy Concerto competition for three consecutive years and served as the principal oboist for the Academy Orchestra European and Asian Tours. He was also a featured soloist for the orchestra performances at the Casal Festival in France and the Carinthia Music Festival in Austria. Since 2008 he has been a member of the Dartington Festival Orchestra in England. In 2010, he was invited to play in the Asia-Pacific United Symphony Orchestras which presented a concert in the United Nation General Assembly Hall in New York. Chanannat was also the co-principal oboe of the Bangkok Symphony Orchestra from 2001 to 2019.
Presently, apart from being the principal oboist of the National Symphony Orchestra, he is also actively playing with the City Chamber Orchestra of Hong Kong and invited as a guest oboist to play with the Hong Kong Philharmonic Orchestra, the Malaysia Philharmonic Orchestra, the Macao Orchestra and the Singapore Symphony Orchestra.
---
Kalaya Phongsathorn
Flute and Piccolo player at the Royal Bangkok Symphony Orchestra
Flute Instructor at Princess Galyani Vadhana Institute of Music
Flutist of Sawasdee Woodwind Quintet
---
Thanida Iamsirikulmitr
Thanida was born in Bangkok, Thailand. She graduated from Chulalongkorn University, Faculty of Fine and Applied Arts, Department of Music Performance in Bangkok, Thailand. To enrich her knowledge in flute playing, Thanida had join masterclass with Robert Aitken, Julien Beaudiment and Trevor Wye. Thanida has participated in many ensembles, orchestras and competition in Thailand and abroad.
In 2015, Thanida came to HKU Utrechts Conservatorium to studied a modern flute with Aldo Baerten, principal flute of Antwerp Symphony Orchestra. In 2019, Thanida finished her Master degree from HKU Utrechts Conservatorium, Department of Historical Performance, studied historical flutes with Wilbert Hazelzet, principal flute of Amsterdam Baroque Orchestra, in the Netherlands.
Thanida is actively performing with Les Quatre Nations Ensemble and Ensemble Apeliote.
---
Akos Szilagyi
Hungarian born recorder player Akos Szilagyi started his musical education at the age of six. First he studied piano and recorder, later oboe. After he graduated from Liszt Academy of Music in Budapest, he worked as a recorder and ear-training teacher, later as a chair of the Recorder Department of Leo Weiner Elementary School of Music and Music High School in Budapest.
Akos Szilagyi specialized in Renaissance and Baroque music with the help of renowned Early Music performers/recorder players as Anneke Boeke, Peter Holstlag, Maurice van Lieshout, Monika Kaminski and baroque flute player Barthold Kuijken. Akos Szilagyi was a participant of numerous concerts, Early Music Festivals in Hungary, and he also performed in Hungarian National Radio. In Thailand, he is a member of different Early Music ensembles and orchestras.
---
Kanokpak Changwitchukarn
Kanokpak Changwitchukarn was born on the 1st April 1994. He finished his grade 9 at Assumption Thonburi School. After that he began to study the Pre-College Program at College of Music, Mahidol University after which he continued his undergraduate level at the same college. He began his first piano lesson with Mr. Sorapong Terdsuwan and Ms. Leela Sakjaroen while he was in grade 7. Then he studied with Mr. Bakthiyor Allaberganov in his high school. In that time, he also took Theory and Composition lesson with Mr. Valeriy Rizayev. At the present, he is in undergraduate level having Mr. Valeriy Rizayev as his instructor. In 2014-2015 He got full scholarship to study in Japan by exchanged program at Kunitachi, College of Music, JAPAN. With having Mr. KAWASHIMA motoharu as his composition instructor and took piano lesson with Ms. INOUE satoko. At the present, he continue his master degree in music composition and theory having Mr. Valeriy Rizaev as his instructor.
---
Chaiyanan Wan-in
Chaiyanan Wan-In was a member of TPO from 2009 to 2020 where he was its C0-Principal Horn from 2016 to 2020. He started to play Trumpet in high school and joined the Rajavinit Matthayom Band. When he was 17 years old, he started to play and learn French Horn with Mr. Krit Vikornvongvanich. He earned bachelor's and master's degree from College of Music, Mahidol University.
He had many opportunities to perform with many orchestras such as Bangkok Symphony Orchestra, Siam Philharmonic Orchestra, National Symphony Orchestra of Thailand, National Symphony Orchestra of Malaysia, etc. He also participated in Asian Youth Orchestra 2006-2007 and South East Asian Youth Orchestra 2003-2005.
In addition to music, he has passion for football. He is the team manager and captain of the Duriyangkhasil Poon-Poon team in the Amateur Football League.
Currently, he works at Mahidol Wittayanusorn School as a music teacher, and a horn instructor at Princess Galyani Vadhana Institute of Music.
---
Khunying Malaival Boonyaratavej
Khunying Malaival Boonyaratavej, Thai National Artist and founder of Thai Youth Choir, was born on 16 November 1932. She won a piano competition organized by Bangkok Music Society in 1948 and got scholarship to study piano and music theory with Pra Jen Duriyang for three years. Khunying Malaival earned her Bachelor degree from Coe College and was the first Thai pianist to earned master of music degree from Eastman School of Music, Rochester, NY. Upon moving back to Thailand in 1956, she dedicated herself to develop music education through various schools. She was, also, the very first musician who arrange Thai music in using for chorus where she laid a foundation for choral singing in Thailand.
---
Rear Admiral Veeraphan Vawklang
Rear Admiral Weeraphan Woklang, Thai National Artist, served as the conductor of the Royal Thai Navy Orchestra and one of the co-founder of the Bangkok Symphony Orchestra (BSO.)
---
Phukorn Srinarong
Phukorn Srinarong was one the most important string pedagogue in Thailand. He was concertmaster of the Royal Bangkok Symphony Orchestra. He, later, became a music director of Thai Youth Orchestra until his retirement. Currently, he teaches at VieMus International School of Music where he co-found with his family.
---
Witaya Tumornsoontorn
Witaya Tumornsoontorn was one of the founding member of the Royal Bangkok Symphony Orchestra. He is currently an executive advisor to the orchestra he co0founded.
---
Bawornpong Suppasophon
Classical Music Journalist, Critics, and Radio host.
---
Tanyawat Dilokkunanant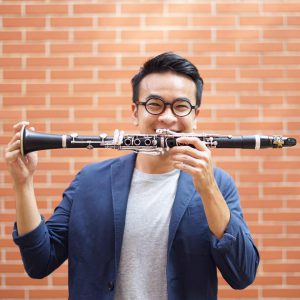 Tanyawat Dilokkunanant – clarinet Associate professor of clarinet at Zhaoqing University College of Music in China, Tanyawat Dilokkunanant is an active performer who has given performances worldwide, including the United States, China, Japan, Spain, Canada, and his native Thailand. He can be heard on the recording of Steven Bryant's Concerto for Wind Ensemble as the principal clarinetist of the Michigan State University Wind Symphony under the direction of Kevin Sedatole. As an orchestral player, Tanyawat has held the principal clarinet position of the Siam Philharmonic Orchestra under the Opera Siam Foundation, Indiana University Chamber Orchestra, and Michigan State University Symphony Orchestra, and has performed frequently as a guest with the West Michigan Symphony, Adrian Symphony, as well as the Royal Bangkok Symphony. He recently toured with Australian International Productions to perform Verdi's Aida in 23 cities across China. Tanyawat has a strong passion for chamber music and new music, and is a founding member of Círculo Trio, an ensemble committed to presenting new music to new audiences. Tanyawat has worked with many living composers and is a regular performer in the Thailand International Composition Festival. He also made his first appearance as guest artist in 2019 Lanzhou International Clarinet and Saxophone Art Festival. An enthusiastic pedagogue, he has been invited to give masterclasses at Zhaoqing University, Kasetsart University, Silpakorn University, as well as 2019 Thailand International Clarinet Academy. He has also been a guest presenter at the Young Artist Music Program of Mahidol University, and Dontreetip on CU radio. Tanyawat holds degrees from Michigan State University, Indiana University Jacobs School of Music, and Chulalongkorn University. His major teachers include Guy Yehuda, James Campbell, and Yos Vaneesorn. Outside of music, Tanyawat enjoys exploring restaurants, cooking, roasting and brewing coffee, and watching Netflix.
---
Piyawat Louilarpprasert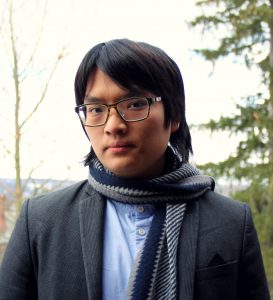 The Otto R. Stahl Memorial Award, Marianthi Papalexandri-Alexandri
"His Compositions suggest a post humanist approach to sound production, where
performer, instrument and objects become new agents"
CNN News Worlds Report, Karla Cripps
"Young and Gifted, Meet the rebel Thai composer taking music to unheard heights"
A young generation Thai composer based in New York, the recipients of 2018 and 2020 ASCAP Morton Gould Young Composer Award, Piyawat Louilarpprasert has been awarded several grants and composition prizes such as American Composer Orchestra, Aguascalientes Symphony Orchestra, Earshot Reading 2019, The Matan Givol International Composers Competition Winning Prize 2019, Call for Scores Winner the 40th Annual Bowling Green New Music Festival 2019, Pro Helvetia Swiss Art Council (Switzerland), Creative Funds by Siam Cement Group Foundation, the Audrey Kahin Research Fellowship, CNN News World documentation: "Young and Gifted", Sage Fellowship (Cornell University, NY), The Charles Stewart Richardson Scholar Award (Royal College of Music, UK), Unheard-of//Ensemble Multimedia Prize 2019, Fund for Classical Promotion Under the Patronage HRH Princess Galyani Vadhana (TH), The Otto R. Stahl Memorial Award 2018 (USA), Sergei Slonimsky Composition Award 2018 (Russia), Minnesota Orchestra Composer Institute 2019 (USA, runner-up), Lucerne Festival Academy Young Composer Seminar 2016 (Switzerland), Rapee Sagarik Award 2018 (TH), Royal concerto orchestral composition prize 2017 (UK), Gabriel Prokofiev Nonclassical Music Competition (UK), Winner of Léon Goossens Prize 2016(UK), Princess Galyani Vadhana Youth Orchestra Award 2015 (TH), Asia-Pacific Saxophone Composition Award 2015 (TH), SEADOM Composition Award 2015 (Philippines), Young Thai Artists Awards, Asian Composer League Electroacoustic music call for score 2014 (Japan) and Young Composers in Southeast Asia Competition 2013 (Germany). In 2017, he was a composer in residence at KulturKontakt 2017 (AIR), Vienna, offered by the Austrian Federal Chancellery Austria.
Originally from Bangkok, Thailand, Piyawat's music explore possibilities of creating the amalgamation of sonic and visual arts; including integrating multimedia and music, deconstructing instruments' s mechanism and physicality with sound production method, and involving Thai traditional music elements in new compositions. Louilarpprasert's compositions have been performed more than 20 countries in Asia, Europe and United States. His music has drawn attention in numerous music festivals such as Darmstadt New Music Festival (Germany), Lucerne Fesival (Switzerland), MUSIIKIN AIKA – Time of Music (Finland), Out hear New Music Festival (Greece), Saint Petersburg New Music Festival (Russia), Kulturkontakt Residency (Vienna), Gaudeamus Musikweek (Netherlands), China – ASEAN Music Week (China), London National Portrait (UK), Mozart of Tomorrow (UK), Musica y Arte: Correspondencias Sonoras (Spain), Asian Composer League (Japan) and Dian Red Kechil Young Composers Residency (Singapore). He collaborated with several established ensembles and orchestras such as Berlin Philharmonic Horn Section and Horn Pure, American Composer Orchestra, Aguascalientes Symphony Orchestra, Arditti Quartet, International Contemporary Ensemble, Lucerne Alumni Ensemble, Orkest Ereprijs, Oerknal!, Ensemble Platypus, Ensemble Reconsil, Ensemble Surplus, Ensemble Mozaik, ASEAN Contemporary Ensemble, University Cincinnati Chamber Players, Mahidol University Orchestras, Vienna Improvisor Orchestra, University of Philippines Symphonic Band, Royal Northern Sinfonia, Stockport Youth Orchestra, RCM Philharmonic Orchestra, Thailand Philharmonic Orchestra.
Piyawat is currently a doctoral candidate in music composition at Cornell University, Ithaca, New York where he is studying with Kevin Ernste and Marianthi Papalexandri Alexandri. He has obtained his Bachelor's degree in composition with Valeriy Rizayev and conducting with Pamornpan Komolpamorn at College of Music, Mahidol University, Thailand in 2011-15, Master's degree in Composition and Conducting at Royal College of Music, London with Dai Fujikura, Jonathan Cole and Gilbert Nuono in 2017.
---
Natsuki Kandatsu
Natsuki Kandatsu was born in 1997 Okayama, Japan. She move to Thailand since 5. She started to play the piano at the age of 7. She studied at Pre-College Program of Music Mahidol University. In 2018,
she went to exchanged program at Kunitachi College of Music, Japan and studied composition with Motoharu Kawashima. At the present, she is studying bachelor degree at College of Music, Mahidol University
in composition with Valeriy Rizayev. Her works has been performed and selected on several occasions, such as:the Thailand New Music and Arts Symposium 2019, the Thailand International Composition Festival, and recently she was selected for International Composition Institute of Thailand 2020.
---
Shin Mitzutani
Shin Mizutani is a composer born in Tokyo, 1991. After his studies of jazz piano at Berklee collage of Music, he went on to Codarts/Rotterdam Conservatory (Bachelor) and Royal Conservatory of The Hague (Master) in the Netherlands, to study composition and electronic music. His works are performed at several music festivals/concerts in Japan, USA, the Netherlands and Germany. His String Quartet "A Study of
'Difference and Repetition' (2015-2016)" was premiered by Mivos Quartet (USA) at Valencia International Performance Academy & Festival 2016 in Spain. In the same year, his chamber work "Quintet for Flute, Clarinet in A, Piano, Violin and Violoncello (2016)" (the piece was later adapted to "Trio for Piano, Violin and Violoncello (2016-2017)" in 2017) was premiered at International Summer Course for New Music in Darmstadt 2016, in Germany. His scores and calligraphy are also acclaimed on several different art fields and exhibited at several museums/exhibitions, like "Musica con Vista (2016)" in Italy and "Northern Disease Exhibition (2016)" in Japan. He studied composition with Richard Barrett, Brian Ferneyhough, Marc Andre, Stefano Gervasoni, Claus-Steffen Mahnkopf, Milica Djordjević, Philippe Hurel, Daniel
d'Adamo, Dimitri Papageorgiou, Panayiotis Kokoras and Rand Steiger, electronic music with Kees Tazelaar and Rene Uijlenhoet, harmony, counterpoint, fugue and general music theory with Rijnhard Bokelmann, Frans de Berg, Theo Varbey, style copy with Arie Boers, music history with Marcel Zijlstra, jazz piano with Francesca Tanksley, music aesthetics and philosophy with Tom Dommisse. He is also working as an arranger/orchestrator for The Piano Teacher's National Association of Japan.
---
Masafumi Oda
Born in Saitama, Japan, in 1986. After learned arts learning in Seijo University, enrolled in Department of Philosophy, Sophia University. Having got master's degree by writing a master's thesis about Deleuze's
philosophy. After graduated, crossing between academic philological studies and investigation of philosophically unique position of myself, and trying to output these results as performance, electronic music and digital video work. Learning the law of harmony and orchestration from Masanobu Sinoda, and learning Max/Msp from Hiromu Yamaguchi. Playing electronic sound as a member of "Empty-Action", a musical unit produced by Koji Kawai. Collaborated with Ichi Ikeda, a worldwide Land-art artist, playing electronic sounds outdoors at Yakushima- island, Japan, on November 11th, 2017. This outdoor session was
edited by myself and released as CD. Releasing first solo CD album on 2019, 2nd CD album on 2020. My Video-Art work "Nostalgia Mass" was selected at the 2019 ElectroAcousticMiniFest at Washington State University. My electro-acoustic work "Fragile Water" was selected at eviMus 6. Saarbrücker Tage für elektroakustische und visuelle Musik 2019. My Video-Art work "Hell of Light" was selected at Thailand New Music and Arts Symposium 2020. My Video-Art work "Festival of Things-in-Themselves Ⅱ" was selected by Arts Letters & Numbers, an ArtOrganization at NY, and exhibited online. My Video-Art work "Madness of Myself" was selected by Humanos Obra colectiva Internacional, an Art-Organization.
---
Tanasit Siripanichwattana
Inspired to be a world-class Percussionist, Tanasit is unanimously recognised as the youngest talent among the leading Asian percussionists in this era. As Tanasit immersed himself in music since young, his musicianship has fully developed. His endless deep dive into music has allowed him to successfully perform various roles in the music realm: a music artist, instructor, guest judge, and composer.
Tanasit's music excellence is reflected in numerous scholarships and performance awards. Graduated his Bachelor's Degree in Music Performance with Kae Hashimoto, Wannapha Yannavut and Shane Taylor Constant from College of Music, Mahidol University, Tanasit received full scholarship and obtained First Class Honors with GPA 3.92. He has also granted Asian Uninet Scholarship from Universitat fur Musik und darstellende Kunst Wien (MDV) to study percussion performance with the tutorship under Mag.art. Mag.phil. Dr.phil. Walter Veigl, Anton Muhlhofer, Anton Mittermayr (Timpanist of Vienna Philharmonic Orchestra), and Eduard Kutrowatz in Vienna, Austria for 1 year. Later, Tanasit obtained his Master's Degree in Marimba Specialization in the class of marimba virtuoso Ludwig Albert at The Royal Conservatory of Dance, Music and Theater in Antwerp, Belgium and graduated his Postgraduate Degree with Greatest Distinctions. At Moreover, he also studied Orchestra Timpani and Percussion with Nick Woud (Principle Timpanist of Royal Concertgebouw Orchestra)and Prof. Nando Russo (Timpanist of Teatro alla Scala Orchestra and Netherlands Philharmonic orchestra) and has attended several master classes from well-known marimbists and percussionists: Ludwig Albert, Leo Ouderits, Brian S Mason, Mike Jackson, Igor Lesnik, PercaDu, Nebojsa Jovan Zivkovic, Axom duo, Lin Chin Cheng, Gordon Stout, Peter Sadlo, Mark Ford and etc.
In high demand as a clinician, performer, and adjudicator, he has appeared throughout Thailand, the United State, Singapore, Japan, Korea, Portugal, China, Austria, Belgium, Netherland and etc., and has been an active member of various Music Ensembles, Bands and Orchestras: Santa Clara Vanguard Drums and Bugle Corps in Drum Corps International (DCI, USA), International Youth Wind Orchestra (WASBE)2005-2007, Southeast Asian Youth Orchestra and Wind Ensemble, Mahidol Wind Symphony, Mahidol Wind Ensemble, Mahidol Orchestra, Mahidol Integrated Percussion Ensemble, Thailand Philharmonic Orchestra, Siam Philharmonic Orchestra, Royal Bangkok Symphony Orchestra, Galayani Vadhana Institute Orchestra, Musik und Darstellende Kunst Wien Orchestra, MDW Percussion Ensemble, Vienna Contemporary Music Ensemble, and the Flanders Marimba Ensemble.
Tanasit is strongly committed to music education through various forms of music classes, percussion workshops and master classes in conjunction with his solo recitals. Of his teaching contributions, he has been percussion performance instructor at Princess Galyani Vadhana Institute of Music, Chulalongkorn University, Department of Music, Kasetsart University, Rangsit University, Srinakharinwirot University, Princess Galyani Vadhana Institute of Music Youth Orchestra (PYO), Thai Youth Orchestra, High School Band and etc. Indeed, despite his age, Tanasit was invited to be a distinguished jury member for Thailand's 1st Marimba Competition in Percussion Conference at Mahidol University, as well as for YAMAHA Thailand Drumline Contest, 4th International Percussion Competition in China, Percussion Competition at Jeju International Wind Ensemble & Percussion Festival 2018, World Percussion Movement, Italy 2019 and etc.
Tanasit's unique gift has been exceptionally highlighted through his musical achievements. In 2012, he won both 1st prize in solo percussion and Chamber music as well as Paolo Serrao Prize (special prize for full score winner) in the European Music Competition, Italy. Later in the same year, Tanasit formed Multus Percussion Duo, acting as an instructor, solo-duo artist, and jury member in Multus Solo and Duo Concert at 4th International Percussion Competition in China and at Burapha University during MUPA present ROAD to ASEAN festival. In 2013, Tanasit founded Zenith Percussion Ensemble who participated in Percussion Ensemble competition in World Category at World Music Contest 2013, Kerkrade, The Netherlands. His efforts have led the ensemble to win 3rd prize in overall, receiving gold medal from exceptional scores of 92.67. In 2014, the marching band that he teaches won Marching Show Band in General Division and Street parade at JOMC 2014, Indonesia. Tanasit also got invite to perform Multus Duo Concert in Japan. In 2015, the band that he teaches got prize winner with Gold Medal for Concert band in World division and 2nd Prize for best conductor (Tanasit conduct) of Europameisterschaft at Rastede, Germany 2015. Also, in 2015-2016, the marching band and Concert Band that he teaches won in Thailand International Royal Trophy Band Competition 2015-2016, Bangkok, Thailand. At 1st Thailand Percussion Festival 2015 Bangkok Thailand, he got invite to give lecture, masterclasses and also perform Concerto for two Marimba and Wind Orchestra with Marimba Virtuoso Ludwig Albert: Double Concerto for two marimba and Wind Orchestra "The Universe" by Ludwig Albert.
He got 1st prize winner by solo marimba with Time-Souls Percussion group at International Hong Kong Percussion Competition and Festival 2016. He also founded Crystallize Percussion Ensemble as music director and got 2nd Prize with Gold medal in Thailand Drumline Competition 2016. Then In 2018, his group "Crystallize Percussion Ensemble" got 1st prize winner at Marching in Okayama, Japan.In 2019, He's head director of Thailand International Percussion Festival 2019 which including 1st International Percussion Competition. His students' group "Per Le Sourire" won 1st prize in PGV International Ensemble Competition 2019. He also got invited to Ludwig Albert International Marimba Academy, Portugal and World Percussion Movement, Italy as an performance artist, Teaching and Judge.
Currently, Tanasit is a composer and arranger for Classical Percussion, Percussion Ensemble, Drumlines and Drum Corps; Thailand Philharmonic Orchestra – Principal Percussionist and Timpanist; Bangkok Symphony Orchestra member and Co-Principal Timpanist; Head director of Thailand International Percussion Festival; Multus Percussion Duo Zenith Percussion Ensemble head; Crystallize Percussion Ensemble; and percussion instructor at Princess Galyani Vadhana Institute of Music, Princess Galyani Vadhana Institute of Music Youth Orchestra (PYO), Thai Youth Orchestra, Royal Thai Air Force Band(Percussion Section), Department of Music Kasetsart University and Faculty of Education Chulalongkorn University. He is an official endorser and a sole user of Adams Musical Instruments, Percussion House, Avedis Zildjian Cymbals, Innovative Percussion Inc., and Evans Drumheads Artists.
---
Sittikun Boon-Itt
More than 20-year experiences in the Performing Arts, Music and Concert market, Sittikun Boon-Itt has extensive experience in the entertainment, culture and music education across Thailand. He has served as a consultant to corporations, governments, leading venues and events in the region on performing arts programming, concert & festival marketing and business planning including pioneering projects in Thailand. Prior to Bangkok's International Festival of Dance and Music, Sittikun spent 10 years as a co-founder of Conservatory of Music, Rangsit University (now, it has became to be one and only most important and biggest music college in Thailand which runs by private university) as the Deputy Dean, Associated Dean of Marketing Management and Managing Director Cadenza Performing Arts Organizer.
The Thai native has extensive experience in talent management, executive producing of major events and festivals in Thailand including one of the oldest jazz festivals in Thailand Hua Hin Jazz Festival, Sawasdee Jazz Festival Bangkok. He has been involved bringing some of the world's top jazz artists. He also brought Grammy Award winner jazz composer and band leader Maria Schneider to conduct RSU Jazz Orchestra and it was the first time in Asia which Maria Schneider conducted college jazz orchestra.
Now, as a Senior Vice President of Bangkok's International Festival of Dance and Music, Sittikun has worked and made the BIFDM to become one of the top 5 performing art festival in Asia. The festival is acclaimed to be the longest performing arts festival ever organizes in Thailand (2 months from September to October annually, approximately 15-20 companies perform with over a thousand of World Class artists participate) including the World's famous symphony orchestras and dance companies from the following:
Symphony Orchestras – Zubin Mehta and Israel Philharmonic Orchestra, Sir Roger Norrington and Zurich Chamber Orchestra, Guiseppe Sabbatini and Nova Amadeus Orchestra from Rome, Helikon Symphony Orchestra from Russia, Orchestra Del Teatro Regio di Parma from Italy, Chelyabinsk State Symphony Orchestra from Russia, The Prague Symphony Orchestra, The Israel Camerata Orchestra, Hangzhou Philharmonic Orchestra
Jazz Artists – Chick Corea (piano), Benny Golson (saxophone), Kenny Barron (piano), Mike Stern (guitar), Maria Schneider (composer, band leader), Dave Weckl (drums), Kenny Garrett (saxophone), Eric Marienthal (saxophone), Jeff Lorber (keyboard), Jimmy Haslip (bass), Joey Calderrazzo (piano), Russell Malone (guitar), Chris Minh Doky (bass), Joris Teepe (bass), Anthony Jackson (bass), Steve Smith (drums), Dr.Steve Gadd (drums), Chick Corea Elektric Band, John Patitucci (Bass), Frank Gambale (Guitar), The Yellowjackets, Cory Henry and The Funk Apostles, Blicher Hemmer and Steve Gadd, Melissa Aldana Quartet, Adam Rogers Trio
Classical Artists – HJ Lim (Pianist), Vadim Repin (Violinist), Albert Sassman (Pianist), Jose Carreras (Tenor)
Opera Companies – Teatro Lirico Italiano of Rome (Italy), Macedonia Opera, Helikon Opera Theatre of Moscow, Chelyabinsk State Opera of Russia, Samara Opera and Ballet Theatre, Zhejiang Xiaobaihua Yue Opera Troupe (China), Teatro di San Carlo, Naples, Italy
Ballet Companies – Stuttgart Ballet (Germany), Staatsballett Berlin (Germany), State Ballet Karlsruhe (Germany) and Grand Theatre de Geneva (Switzerland), Ballet Nacional Sodre (Uruguay), Novosibirsk Opera & Ballet Theatre (Russia), Moscow Stanislavsky Ballet (Russia)
Dance Companies – Ballet Preljocaj (France), Danish Dance Theatre (Denmark), Quorum Ballet (Portugal), Inaki Urlezaga Ballet (Agentina), Grupo Corpo (Brazil), Quasar Dance Compny (Brazil), Baltic Dance Theatre (Poland), Spellbound Dance Company (Italy) and Limon Dance Company (New York), Virsky Dance Company (Ukraine), Orissa Dance Company (India), Tango Legends by Mariela Malsonado & Pablo Sosa (Argentina), Los Vivancos (Spain), Delirium (Colombia), Gauthier Dance Company (Germany), Deborah Colker Company (Brazil), Malandain Ballet Biarritz (France), Ballet Flamenco of Adalucia (Spain), Aditi Mangaldas Dance Company (India), Paul Taylor Dance Company (New York), Sara Baras Dance Company (Spain
Music : Al McKay's Earth Wind and Fire Experience, Mario Frangoulis, George Perris, Gypsy King, Teresa Salgueiro, The Ten Tenor, BBC Planet Earth Concert, ABBA, Jim Brickman, Return to Grace (Tribute Concert for Elvis Presyley),
In January 2013, Sittikun was a Director of Thailand's most significant historic outdoor concert. A landmark performance, "Zubin Mehta and Israel Philharmonic Orchestra Live in front of the Royal Grand Palace" was the first international standard, outdoor, top western classical concert in Bangkok. The performance framed by the beauty of the Grand Palace, especially illuminated for the performance, had the audiences spellbound. This concert at the Royal field was acclaimed to be one of the most difficult outdoor concert to be organized and produced since the Princess of Thailand as well as 2,000 Thai's high rank audiences attended the performance.
Sittikun has worked closely with Festival's corporate clients on the development of specifically created with the promotion of their brands. Corporate clients have included the top rank of government and private companies/organizations such as The Crown Property Bureau, Ministry of Culture, Bangkok Metropolitan Administration (BMA), Thailand Convention and Exhibition Bureau (TCEB), Bangkok Bank PLC, Bangkok Hospital, B.Grimm, BMW (Thailand), Mercedes Benz, Beiersdorf (Thailand) Co.Ltd, Singha Corporation, PPT Group, Samsung, Fuji Xerox, AIA, Magnolia Quality Development, Tourism Authority of Thailand, Toyota (Thailand), Airport Authority of Thailand and Top Gun Limited
Beside working full time for the Festival, Sittikun is also a committee to start college of music for Thammasat University, Thailand as well as an Artistic Advisor for managing the new concert halls of Thammasat University and Rangsit University.
In addition, he is also an official representative organizer in Thailand of 2018 International Jazz Day, United Nations Educational, Scientific and Cultural Organization (UNESCO), Washington DC, USA.
---
GUEST ENSEMBLES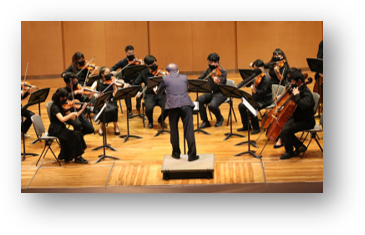 PGVIM String Ensemble
First Prize Winner – Princess Galyani Vadhana International Ensemble Competition 2018
---
PGVIM Percussion Ensemble
First Prize Winner – Princess Galyani Vadhana International Ensemble Competition 2019
---
TACET(i)
Southeast Asia's leading new music ensemble, Tacet(i) is focusing oNon the creation of new compositions from both local and international composers, artists, as well as new works with elements of music technology, improvisatory and interdisciplinary. Tacet(i) premiered and collaborated with new artists and composers which performed than 50 new works in the past year.
---
PGVIM Students Artist
Prannathorn Teerarodjanakul
(Oboe)
Pichaya Sookprasong
(Bassoon)
Orawan Kadenuam
(Horn)
Phoom Santipornwit
(Harpsichord)
Pingka Sirisujinte
(Harpsichord)
Kansiree Chirawattanaphan
(Harpsichord)
Napasorn Lawasinarporn
(Harpsichord)
---