THE WATKINS DUO
Rhys Watkins (Violin)
Welsh violinist Rhys Watkins has an established career as a soloist, recitalist and orchestral leader. Rhys graduated from the Royal Academy of Music in 2005 and became a member of the first violin section of the London Symphony Orchestra in 2009. He has since enjoyed performing in almost all of the world's major concert halls and has represented the orchestra by giving recitals in embassies in Beijing, Tokyo, New York and throughout Europe.

At Abbey Road & Air Lyndhurst Studios, London, Rhys has recorded the music for many films including Harry Potter, Thor, Star Wars, The Twilight Saga : New Moon, The King's Speech, Marvel's The Avengers, Rise of the Guardians, Zero Dark Thirty, Brave, The Imitation Game, Cinderella, The Shape of Water, Coco before Chanel, Tamara Drewe, The Special Relationship, The Golden Compass, Superman and many more. He has also enjoyed working with acclaimed film directors Guillermo del Toro, George Clooney and Sir Kenneth Branagh.

Rhys has been a finalist and prize-winner in several major international competitions including the Jeunesses Musicales International Violin Competition (Belgrade) and the Paganini International Violin Competition (Moscow) and is currently a member of the award-winning Artea String Quartet with whom he has performed at the Wigmore Hall, Purcell Room and BBC Proms. The Artea Quartet have made numerous live broadcasts on BBC Radio 3 and have recorded several CDs of the Mendelssohn and Schubert quartets under the Champs Hill label to great critical acclaim.

Alongside his classical concerts, Rhys has also shared the stage in performances with Paul McCartney, Bryan Adams, Queen, Elton John, Shirley Bassey, Eric Clapton, Phil Collins, Ray Davies, Tom Jones, Annie Lennox, Rod Stewart and Tony Bennett.
Rowena Calvert (Cello)
British cellist, Rowena Calvert, has firmly established herself as an ambassador for the younger generation of cellists through her wealth of performances across the world. Her solo appearances and collaborations with artists and dancers such as Carlos Acosta include performances at the Royal Albert Hall, BBC radio 3, Classic FM, the Wigmore Hall, The Queens Hall and performances across Europe, Asia and the Middle East.

A regular recording artist in Abbey Road, Rowena has recorded sound tracks for blockbuster films including Mission Impossible, Wonder Woman, the animation 'Up' and has worked with musicians such as Paul McCartney, Shirley Bassey and most recently at the Brit Awards, Billie Eilish. She has toured as part of the band for Hans Zimmer and Nigel Kennedy. As a freelance orchestral musician Rowena performs regularly at the BBC Proms.

As the former cellist of the Cavaleri String Quartet, accomplishments include first prizes at the 2012 Hamburg International Chamber Music Competition (Germany) and Royal Overseas League Competition (London), second prize at the 2014 Osaka International Chamber Music Competition (Japan) and the 'Special Prize' at the Premio Paolo Borciani International String Quartet Competition (Italy).The quartet went on to tour extensively in South America, New Zealand, Australia, Japan and Europe giving live radio broadcasts in each country. They also recorded several CDs, each met with great critical acclaim.

Rowena is the Artistic Director of Hertford International Concert Series and Head of Strings in Shrewsbury International School, Bangkok. She is currently leading an enormously enjoyable career as a soloist, chamber musician and teacher.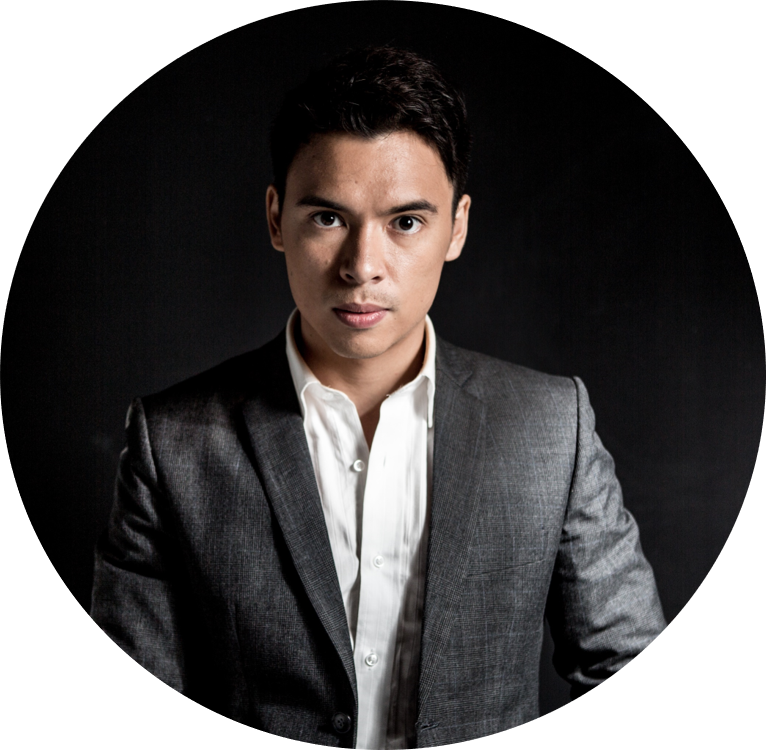 DR. CHRISTOPHER JANWONG McKIGGAN
Piano
Dr. Christopher Janwong McKiggan's playing has been called as "masterful, highly contrasted and sharply characterized" (Gramophone), and he has been hailed as having "astounding technique… startling poise and control" (Kansas City Star), "astonishing virtuosity and piano coloration" (The Citizen), being "commanding" (Limelight), "outstanding" (Bangkok Post) and "proving to be colossus, converting every piece into a virtuoso composition" (The Manila Times). McKiggan won a top prize as laureate at the prestigious 12th UNISA International Piano Competition (WFIMC) and won numerous other awards, including the Gold Medal in the Seattle International Piano Competition, second prize in the Isabel Scionti International Music Competition, First Prize in the Bradshaw and Buono International Piano Competition, and awards in other national and international competitions. He is also the recipient of the Presser Award.

He is the co-founder and head faculty of the Piano Academy of Bangkok, and his students have won multiple national and international awards, including top prizes in the Kaufmann International Youth Piano Competition (New York, USA), the Robert Schumann International Youth Piano Competition (Dusseldorf, Germany), the Piano Competition for Young Musicians (Enschede, Netherlands), Chicago International Music Competition, Russian International Piano Competition, among many others. He is the CEO of Chris the Pianist Productions, and has worked as director and producer on commercials, music videos, series, and promotional videos.

His appearance on 2015 recording of Augusta Read Thomas's viola-piano duet Cantos for Slava (Augusta Read Thomas: Music for Strings, Nimbus Records, engineered by multiple Grammy-winner Christopher Willis), was hailed as "virtuosi[c] and skilled[ed]" (Gramophone). His solo album, Paganimania, (Albany Records, 2015) was mixed and mastered by Grammy-Nominated sound engineer Ken Gorres. In its review of Paganimania, Fanfare, called Christopher "the best hope for a global music of the future." Christopher has been a guest artist at multiple music festivals including the Thailand International Contemporary Music Festival, the Geneva Music Festival and Electronic Music Midwest. He has performed at numerous venues including Weill Recital Hall, Salle Cortot, The Kennedy Center, Melbourne Recital Center, Cultural Center for the Philippines, Saugatuck Center for the Arts, The Egg Beijing, Le Poisson Rouge, Benaroya Hall, Hahn Hall, Paul Hall, Jin Mao Concert Hall. He is the founding pianist with the Bangkok Piano Trio and Eon Piano Trio which one of their concerts was graced by the presence of H.R.H Princess Galyani Vadhana.

Born in Christchurch, England, Christopher began his piano studies at age six with his father. He moved to Thailand at age seven, residing with his father, British, and mother, a Thai citizen of Chinese heritage. He graduated Magna Cum Laude from the University of Missouri-Kansas City as a Bachelor of Music studying under Doctor Robert Weirich, a Master's Degree from Rice University and graduated from the Doctoral of Musical Arts program at Rice University under Professor Jon Kimura Parker.
PADET NETPAKDEE
Classical Guitar
An active classical guitarist, arranger, and music educator. Padet's musical style is not only limited to classical practice but also represents some jazz elements that can be found in his arrangements.

After receiving a Bachelor of Music from the College of Music, Mahidol University, where he studied classical performance with Ajarn Suvit Klinsmith and Dr. Paul Cesarczyk. Padet continued his Master of the Music program at Conservatorium Maastricht, Netherlands where he studied with maestro Carlo Marchione, one of the most prominent classical guitarist-pedagogues in Europe. Then, he was granted a scholarship to study with the great contemporary guitarist-composer, Sergio Assad in the Professional Studies Diploma at San Francisco Conservatory of Music.

Currently, Padet is a visiting classical guitar instructor at the Princess Galyani Vadhana Institute of Music and at the College of Music, Mahidol University. His classes range from solo performance to ensemble music and fretboard harmony.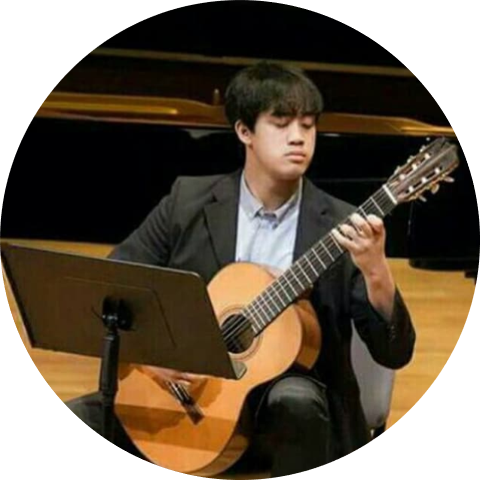 PEERAWIT AUNRUAN
Classical Guitar
Peerawit is a graduate of Princess Galyani Vadhana Institute of Music and a recipient of Fund for Classical Music Promotion Under the Patronage of Her Royal Highness Princess Galyani Vadhana. While at PGVIM, he was selected to participate in a music exchange program at the Brandenburg University of Technology in Cottbus, Germany, as well as performing various activities. Currently, Peerawit is an avid badminton teacher as well as teaching guitar for younger students.

**Please note that Peerawit was unable to present during the festival due to the COVID-19 quarantine restriction.**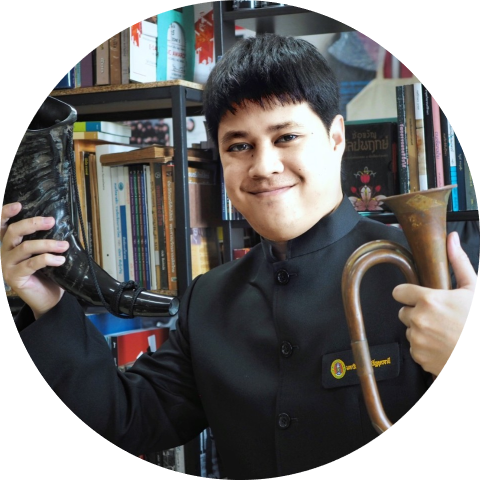 JIT GAVEE
Moderator / Musicologist
Jit Gavee is a Euphonium player and a lecturer of Music Department, Faculty of Humanities and Social Sciences, Udonthani Rajabhat University, Thailand. Jit graduated with a Master of Art (Musicology) degree from College of Music, Mahidol University under the instruction of Emeritus Prof. Poonpit Amatyakul, Dr. Nachaya Nachanawakul and Asst.Prof. Dr. Anak Charanyananda. His work focuses on the history of Western music in Thailand, specifically, the Brass Band and Military Band. Jit founded Rerng Roop-bhayon Theater Brass Band (Nakhon Pathom) and the Mak Khaeng Chamber Wind Ensemble (Udonthani) in order to spread Thai traditional Brass Band music as well as contemporary Brass Music to the present day. Aside from his full-time work at the university, Jit also contributes musicology articles to the Mahidol Music Journal (Pleang Dontri) on a regular basis.
DR. BOONYARIT KITTAWEEPITAK
Mahidol University Brass Band
Boonyarit Kittaweepitak is a Besson performing artist and a lecturer of euphonium at the College of Music, Mahidol University, Thailand. Boonyarit is also one of the founders and music director of Mahidol University Brass Band.

In 2020, he graduated with a Doctoral of Musical Arts degree from the University of North Texas under the instruction of Professor David Childs, and Dr. Brian Bowman. He was a teaching fellow and Coordinator of UNT's Tuba Euphonium Ensemble. Boonyarit received a Master of Music degree from the Royal Northern College of Music in the United Kingdom and a Bachelor of Music degree from Mahidol University. His primary teachers include Professor Steven Mead, and Kitti Sawetkittikul. Boonyarit began his euphonium studies at Assumption College, Thailand with Wichai Yongvanitjit and Jakkrit Ruenvuth in 1999.

As a soloist, Boonyarit appeared as a soloist with Blackburn and Darwen Brass Band in the UK and the Dallas Brass Band, where he received the Player of the Year award. Also, Boonyarit performed a duet with a euphonium virtuoso, Steven Mead, which was accompanied by the Desford Brass Band in Singapore's Brass Explosion Festival in 2012. Boonyarit was featured in several ensembles including, WASBE International Youth Wind, UNT Wind Symphony, RNCM Wind Orchestra, RNCM Brass Band, and Manchester University Brass Band.

Boonyarit was invited as a faculty member of Asia Tuba Euphonium Festival, which was held in South Korea (2018) and in Beijing, China (2019). Some of his collegiate students have competed and received recognitions among prestigious national and international platforms including International Tuba Euphonium Conference (ITEC) and Falcone Festival.
SIRAVITH KONGBANDALSUK
Tacet(i) / Brass Ensemble Director of PGVIM
Siravith Kongbandalsuk, a trombonist originally from Bangkok, Thailand. He has been awarded and participated in several international music festivals such as Ian Bousfield tenor trombone competition 2017 from British Trombone Society (UK) and Svirel International Music Competition 2016, Slovenia. Brass and Percussion Seminar and Solo competition 2013, Thailand.
With his interest in many kinds of music performance including classical music and contemporary music. He has performed internationally such as Thailand New Music and Art Symposium 2019 – 2020, Thailand International Composition festival 2018, Tokyo Media Interaction 2018, Kultur Kontakt Austria 2017 and Asian Composer League 2015. He has been a member and performed with many ensembles such as Bandung Philharmonic Orchestra, Thailand Philharmonic Orchestra, Netherlands Youth Orchestra (NJO), Nederland Student Orchestra (NSO), Princess Galyani Vadhana Youth Orchestra, Siam Sinfonietta and Southeast Asian Wind Ensemble (2010), Million Wind Philharmonic, Limburg trombone ensemble and QuarterBone Trombone quartet. Also, he is a member of Tacet(i) Contemporary ensemble which performs and participates regularly in many international music festivals.
Siravith has obtained his Bachelor's degree in classical trombone performance with Philip Brink at College of Music, Mahidol University, Thailand in 2010 – 2014, Master's degree in music performance at Conservatorium Maastricht, Netherlands with Bart Claessens in 2015 – 2017. Currently, Siravith is a full-time lecturer at Princess Galyani Vadhana Institute of Music.
PAUL ARCHIBALD
Trumpet
As a professional musician, Paul enjoys long established relationships with the Brandenburg Sinfonia, Britten Sinfonia, London Mozart Players and Orchestra of St John's. He has recently developed a range of specialist courses for young musicians as part of his work with English Music Academy and English Brass Academy. Paul is Music Director of Regent Brass and has focussed the repertoire towards contemporary writers with a particular emphasis on commissioning young talent to compose for the medium.

He is currently working on a new London Mozart Players commission by Rebecca Dale and Selina Nwulu entitled STAND, an ambitious work aimed at crossing cultural boundaries. The LMP recording also includes a host of choirs from around the world alongside guest solo artists. The release of STAND in 2019 will also act as the launch for the work of a new charity – Harmony: Action Through the Arts – bringing benefit to young people who are socially and economically disadvantaged through activity in a range of musical projects.

Paul has been a principal player in the Orchestra of the Royal Opera House, Covent Garden, London Sinfonietta and BBC National Orchestra of Wales and was a member of the Philip Jones Brass Ensemble and English Brass Ensemble. He is currently a member of the innovative chamber ensemble, Fibonacci Sequence. He has recorded with many popular artists including Barbara Streisand, Shirley Bassey, Sir Paul McCartney and Oasis and film work includes Batman, Gladiator, Lord of the Rings and Harry Potter and Shrek.

Paul has been a professor at the Royal Academy of Music, Royal College of Music and was Head of Wind, Brass and Percussion at the Guildhall School of Music and Drama. In 2003 he was elected as a Fellow of the Royal Academy of Music, London, limited to 300 former Academy student
CHANNARONG JANTARART
Piano
Channarong commenced his piano studies at the age of six. After winning several prizes from competitions in Thailand, he gave his debut recital at the age of thirteen and became a music scholar of Shrewsbury International School in 2004. Whilst being a student there, he performed regularly and made his first concerto appearance in 2007, playing Beethoven's Third Piano Concerto.

In 2009, Channarong went to London to pursue his music studies. Over the following years, he has won prizes including first prize from the European Piano Teachers Association Piano Competition, first prize and Cattermole Award from the Stratford and East London Music Festival and the Cox Memorial Prize from the Eastbourne Symphony Orchestra Young Soloist Competition. In addition, he was also a recipient of Royal College of Music Study Award, Knights of the Round Table Award, Geoffrey Parsons Memorial Trust Award, Edward Mandel/Jaques Samuel Pianos Award, St Marylebone Educational Foundation Award, and Cosmina and Douglas Liversidge Award.

Channarong has received his Master of Music in Performance and Bachelor of Music (Honours) with distinction from the Royal College of Music, London, under the tutelage of Professor Dina Parakhina and Professor Ian Jones. Currently, he is the Associate Director of Keyboard at Shrewsbury International School, Bangkok.
TONTRAKUL KAEWYONG
Thai Traditional Instruments
Tontrakul Kaewyong is a new generation of Isan artist (the northeastern part of Thailand,) an expert and interested in Isan music culture such as Mor Lam, Pin, Khaen, Ponglang, and in combination of Isan music with other musical genres.

Tontrakul graduated with a Bachelor degree in Music Education and Pedagogy at College of Music, Mahidol University. His extensive performing experiences are from performing in many countries such as Norway, Japan, United Kingdom, Poland, Germany, Republic of Korea, China, India, Turkey, Philippines, Myanmar, Cambodia, and Laos.

Tontrakul has performed with distinguished artists including Rasmee Isan Soul, Ga-Pi, Asia 7, Boyjozz, Jinta, Dj. Machina to name just a few. His present works are with TONTRAKUL, Asia 7, HED, nisatiwa and Thai x Norsk Project. Currently, he is studying for a Master degree in Music Performance and Pedagogy at College of Music, Mahidol University.

Awards:
Third Prize, Music Band Competition, Perform King Rama 9 compositions (2017)
Kom Chad Luek Award Nominated for the Best of Instrumental Music (2016)
Fungjai Award Nominated for the Best of Compose & Arrangement (2016)
Gold Prize, The 17th Settrade Youth Music Competition (2015)
First Prize, The 12th OSAKA international Music Competition (2011)
First Prize, Thai Contemporary Music Band Competition Chang Peauk Khun Pra
Khun Pra Chuay (2009)
DR. APICHAI CHANTANAKAJORNFUNG
Classical Guitar
Apichai Chantanakajornfung sees music as a lifelong journey that takes a person to enjoy its beauty and to discover his/her own self. Invited to perform in several notable guitar festivals, he enjoys playing as soloist, in duo and especially in ensemble. In 2017, he was selected to share the concert at Elisabeth University in Hiroshima, Japan. Apart from the concert activities, he has regularly served as a jury in various guitar competitions. Apichai began his first music lessons on piano, then continued on classical guitar and studied seriously with Mr. Woratep Rattana-umpawan. In 2008, he received a Bachelor of Fine Arts with first class honours from Chulalongkorn University under the guidance of Ms. Buppavan Theeravanvilai. Consequently, he earned a Master of Arts degree at the Music and Arts University of the City of Vienna where he studied guitar with Mr. Heinz Wallisch and Mr. Jorgos Panetsos. Presently, he acquired a Doctor of Fine Arts degree from Chulalongkorn University, Thailand and is currently teaching at Princess Galyani Vadhana Institute of Music.
KITTAPORN WONGPAYAK
Classical Guitar
Kittaporn Wongpayak was born 27 April 1998 from Rayong. She began to play Classical Guitar when she was 18 years old with Professor Anucha Patanaratanamole, Head of M&E Music School Rayong. After she finished her high school she continued to study for a bachelor degree in classical music department major instrument : Classical Guitar with Professor Padet Netpakdee. During her musical experience, she got an opportunity to be an exchange student for 4 months at Brandenburg University of Technology Germany where she was supported by the Fund for Classical Music Promotion Under the Patronage of Her Royal Highness Princess Galyani Vadhana. She has participated in many competitions and Masterclass with many guitarists such as Ekachai Jearakul, Thomas Chabas.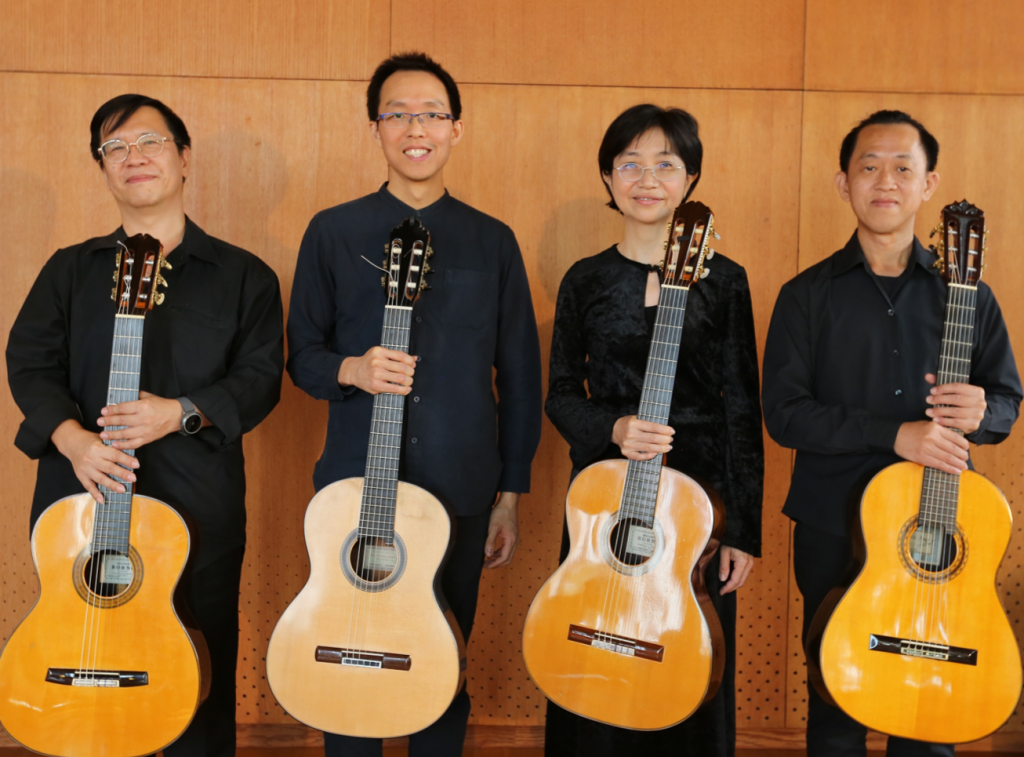 SIAM GUITAR QUARTET
Classical Guitars
Founded in 2018, Siam Guitar Quartet was formed by staff of Thailand Guitar Society (TGS). TGS organizes annually many guitar competitions including Pattaya Guitar Festival, TGS Guitar Award and the most renowned Asia International Guitar Festival. To be part of the performance in these festivals and the enjoyment among us, the quartet was then initiated. Furthermore we have been invited to other venues across the country. Siam Guitar Quartet has performed various kinds of repertoire ranging from transcription to original, classical to new age and concerto to contemporary music. We aim to contribute and foster this beautiful music to continue and prosper. Members of Siam Guitar Quartet are Woratep Rattana-umpawan, Nalin Komentrakarn, Sakol Siripipattanakul, and Dr. Apichai Chantanakajornfung.
DR. NACHAYA NATCHANAWAKUL
Musicologist (History of Music in Thailand)
Nachaya Natchanawakul joined as the full-time faculty of College of Music, Mahidol University in 2016, where she serves as the chair of the Ph.D. program and teaches courses in Thai Music Theory, Thai Music history, Introduction to Music Research, and Performance Pedagogy. Before this, she worked for 18 years at the Department of Music, Faculty of Humanities, Naresuan University, Phitsanulok, Thailand.

Nachaya received her Ph.D. in Musicology from College of Music, Mahidol University and a Masters and Bachelor degree in Thai Music from Chulalongkorn University. She received support for her Masters degree from a scholarship funded by the Naresuan University as well as the Research Fund for Master dissertations from the King Prajadhipok and Queen Rampaipannee Scholarship Foundation, Thailand Parliament. Subsequently, she was funded for her Ph.D. Scholarship by the Commission of Higher Education, Ministry of Education. Her dissertation focused on Western music in Siam: the development between A.C.1841 – 1941. In 2012, her dissertation was recognized with an award from the Graduate School, Mahidol University.

Nachaya's research covers varied topics such as the situation and function of Thai string ensemble in the period of King Rama V, An analysis of ja-khe solo song, Learning process for conservation and development of Mangkhala performance in the lower northern part of Thailand (Research Funded from The Thailand Research Fund.), The Development and Principle of" Ketduriyakom" Thai String Assembled Piano (Research Funded from Mahidol University.)
KANRIT SAWATDISUK
Green Brass Band (KU)
Kanrit Sawatdisuk is an Euphonium Instructor at Department of Music – Faculty of Humanities – Kasetsart University, and also at following well-known institutes as, Faculty of Music and Performing Arts – Burapha University, College of Music – Bansomdejchaopraya Rajabhat University, Royal Thai Army Band School, Royal Thai Air Force School of Music.

In 2004, Kanrit enrolled in undergraduate studies at Western music program, Department of Communication Arts (Department of Music since 2010), Faculties of Humanities, Kasetsart University. He studied Euphonium with Mr. Surapol Thanyawibool and became a member of Kasetsart University Wind Symphony under the baton of Mr. Surapol Thanyawibool and Dr. Nipat Kanchanahuta. Kanrit had been invited to perform at Tuba Mania International Festival 2013 , Brass Festival and Percussion 2014 , Thailand International Composition Festival 2018 , Thailand International Low Brass Conference 2019 as a member of Low Fat Tuba Ensemble. Kanrit attended many master class events with many world class Euphonium artists such as Steven Mead, Misa Mead, Glenn Van Looy, Bastien Baumet, Mark Glover, Adam Frey, Matthew van Emmerik, Mizuho Kojima, and Robert Visser.

Besides his teaching career, Kanrit is a co-founder of Low Fat Tuba Ensemble and a conductor of The Green Brass Band. As a Conductor of The Green Brass Band, Kanrit grows his experience along together with band's members through a numbers of concerts and numerous renowned Thai and world-class artists such as Jirapat Praeprasert (International Adam Euphonium Artist), Glenn Van Looy (International Geneva Euphonium Artist), Bastien Baumet (International Besson Euphonium Artist), Mark Glover (International Sterling Euphonium Artist), Adam Frey (International Yamaha Euphonium Artist), and Tim De Maeseneer (International Besson Tenorhorn Artist.)
PO1 CHANAT CHOKWISITTICHAI
The Royal Navy School of Music
Petty Officer First Class Chanut Chokwisitthichai graduated from the Royal Thai Navy School of Music in 2003 and served in the government service as its musician in the Civil Division. In 2010, he earned his Bachelor of Music degree, majoring in horn performance, from the College of Music, Mahidol University. Since then, he has been back to the Royal Thai Navy School of Music to serve as a music teacher at its Education Division. His interest in the development of Brass Band in the Royal Navy led him to a deeper research where he found much important evidence.