Princess Galyani Vadhana International Music Festival 2020
"CLASSICAL MUSIC NEXT NORMAL"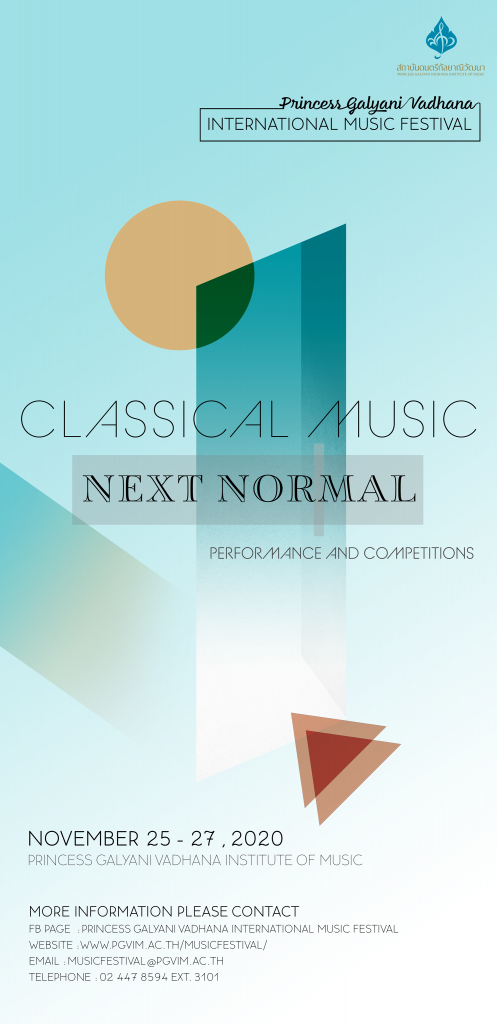 Princess Galyani Vadhana International Music Festival or PGMF inaugurates in 2020 as part of a new project initiation by Princess Galyani Vadhana Institute of Music (PGVIM) which aims to continue its mission in realizing Her Royal Highness Princess Galyani Vadhana's vision in promoting and supporting classical music in Thailand.
The next normality of classical music is the undenying question that every classical music institution, organizations, and musicians are currently facing. What will happen next after the new normal? Would there be another new normal? What would the next normal be? Thus, "Classical Music Next Normal" could not be a more fitting theme for the inaugural year of Princess Galyani Vadhana International Music Festival. The 3-day-long festival, starting from 25 to 27 November 2020, will explore possibilities and ways of classical music happening, its economy, and to make it sustainable for the current and future contexts.
The activities during the festival will be divided into two parts in connection to the aims. Festival Performances, From Classical to Next Normal, will feature music from early era to new exploration. Start Up Competition will look for solutions for the future of classical music in Thailand through two categories: Business Model Pitching Competition and Performance Proposal Competition.