---
2021 FESTIVAL
The Development of British Brass Band in Thailand
---
THE DEVELOPMENT OF BRITISH BRASS BAND IN THAILAND
Seminar and Performance series which will be conducted in Thai
Tuesday 6 July 2021, 19:00 hr
Continuing from a successful seminar and performance on history of Western Classical Music in Thailand on Hans Günther Mommer last year, this year's festival drives into the history and development of British Brass Band in Thailand. Even though the model might have disappeared for a period of time, its impact has been instilled within the music scene such as Wind Band, Marching Band, or even 'Trae Wong.'
As it proves time and time again that new trends are led by the young, this seminar is led by new generations of musicians and academics who are part of the resurgence of the British Brass Band model and well versed in the history of classical music in Thailand.
CURATOR AND MODERATOR
Jit Gavee
SPEAKERS
Dr. Nachaya Natchanawakul
Dr. Boonyarit Kittaweepitak
Kanrit Sawatdisuk
Po1 Chanat Chokwisittichai
Siravith Kongbandalsuk
ABOUT ARTISTS
Jit Gavee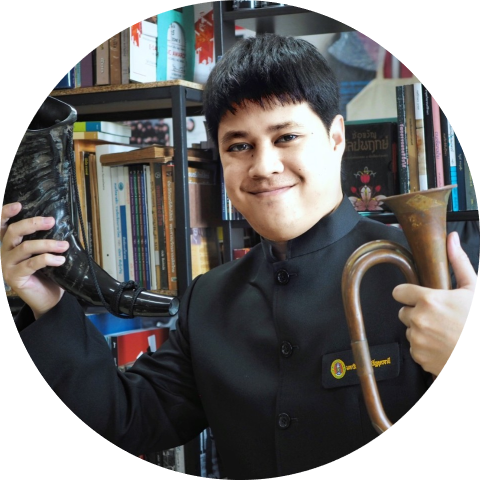 Jit Gavee is a Euphonium player and a lecturer of Music Department, Faculty of Humanities and Social Sciences, Udonthani Rajabhat University, Thailand. Jit graduated with a Master of Art (Musicology) degree from College of Music, Mahidol University under the instruction of Emeritus Prof. Poonpit Amatyakul, Dr. Nachaya Nachanawakul and Asst.Prof. Dr. Anak Charanyananda. His work focuses on the history of Western music in Thailand, specifically, the Brass Band and Military Band. Jit founded Rerng Roop-bhayon Theater Brass Band (Nakhon Pathom) and the Mak Khaeng Chamber Wind Ensemble (Udonthani) in order to spread Thai traditional Brass Band music as well as contemporary Brass Music to the present day. Aside from his full-time work at the university, Jit also contributes musicology articles to the Mahidol Music Journal (Pleang Dontri) on a regular basis.
Dr. Nachaya Natchanawakul
Nachaya Natchanawakul joined as the full-time faculty of College of Music, Mahidol University in 2016, where she serves as the chair of the Ph.D. program and teaches courses in Thai Music Theory, Thai Music history, Introduction to Music Research, and Performance Pedagogy. Before this, she worked for 18 years at the Department of Music, Faculty of Humanities, Naresuan University, Phitsanulok, Thailand.
Nachaya received her Ph.D. in Musicology from College of Music, Mahidol University and a Masters and Bachelor degree in Thai Music from Chulalongkorn University. She received support for her Masters degree from a scholarship funded by the Naresuan University as well as the Research Fund for Master dissertations from the King Prajadhipok and Queen Rampaipannee Scholarship Foundation, Thailand Parliament. Subsequently, she was funded for her Ph.D. Scholarship by the Commission of Higher Education, Ministry of Education. Her dissertation focused on Western music in Siam: the development between A.C.1841 – 1941. In 2012, her dissertation was recognized with an award from the Graduate School, Mahidol University.
Nachaya's research covers varied topics such as the situation and function of Thai string ensemble in the period of King Rama V, An analysis of ja-khe solo song, Learning process for conservation and development of Mangkhala performance in the lower northern part of Thailand (Research Funded from The Thailand Research Fund.), The Development and Principle of" Ketduriyakom" Thai String Assembled Piano (Research Funded from Mahidol University.)
Dr. Boonyarit Kittaweepitak
Boonyarit Kittaweepitak is a Besson performing artist and a lecturer of euphonium at the College of Music, Mahidol University, Thailand. Boonyarit is also one of the founders and music director of Mahidol University Brass Band.
In 2020, he graduated with a Doctoral of Musical Arts degree from the University of North Texas under the instruction of Professor David Childs, and Dr. Brian Bowman. He was a teaching fellow and Coordinator of UNT's Tuba Euphonium Ensemble. Boonyarit received a Master of Music degree from the Royal Northern College of Music in the United Kingdom and a Bachelor of Music degree from Mahidol University. His primary teachers include Professor Steven Mead, and Kitti Sawetkittikul. Boonyarit began his euphonium studies at Assumption College, Thailand with Wichai Yongvanitjit and Jakkrit Ruenvuth in 1999.
As a soloist, Boonyarit appeared as a soloist with Blackburn and Darwen Brass Band in the UK and the Dallas Brass Band, where he received the Player of the Year award. Also, Boonyarit performed a duet with a euphonium virtuoso, Steven Mead, which was accompanied by the Desford Brass Band in Singapore's Brass Explosion Festival in 2012. Boonyarit was featured in several ensembles including, WASBE International Youth Wind, UNT Wind Symphony, RNCM Wind Orchestra, RNCM Brass Band, and Manchester University Brass Band.
Boonyarit was invited as a faculty member of Asia Tuba Euphonium Festival, which was held in South Korea (2018) and in Beijing, China (2019). Some of his collegiate students have competed and received recognitions among prestigious national and international platforms including International Tuba Euphonium Conference (ITEC) and Falcone Festival.
Kanrit Sawatdisuk
Kanrit Sawatdisuk is an Euphonium Instructor at Department of Music – Faculty of Humanities – Kasetsart University, and also at following well-known institutes as, Faculty of Music and Performing Arts – Burapha University, College of Music – Bansomdejchaopraya Rajabhat University, Royal Thai Army Band School, Royal Thai Air Force School of Music.
In 2004, Kanrit enrolled in undergraduate studies at Western music program, Department of Communication Arts (Department of Music since 2010), Faculties of Humanities, Kasetsart University. He studied Euphonium with Mr. Surapol Thanyawibool and became a member of Kasetsart University Wind Symphony under the baton of Mr. Surapol Thanyawibool and Dr. Nipat Kanchanahuta. Kanrit had been invited to perform at Tuba Mania International Festival 2013 , Brass Festival and Percussion 2014 , Thailand International Composition Festival 2018 , Thailand International Low Brass Conference 2019 as a member of Low Fat Tuba Ensemble. Kanrit attended many master class events with many world class Euphonium artists such as Steven Mead, Misa Mead, Glenn Van Looy, Bastien Baumet, Mark Glover, Adam Frey, Matthew van Emmerik, Mizuho Kojima, and Robert Visser.
Besides his teaching career, Kanrit is a co-founder of Low Fat Tuba Ensemble and a conductor of The Green Brass Band. As a Conductor of The Green Brass Band, Kanrit grows his experience along together with band's members through a numbers of concerts and numerous renowned Thai and world-class artists such as Jirapat Praeprasert (International Adam Euphonium Artist), Glenn Van Looy (International Geneva Euphonium Artist), Bastien Baumet (International Besson Euphonium Artist), Mark Glover (International Sterling Euphonium Artist), Adam Frey (International Yamaha Euphonium Artist), and Tim De Maeseneer (International Besson Tenorhorn Artist.)
PO1 Chanat Chokwisittichai
Petty Officer First Class Chanut Chokwisitthichai graduated from the Royal Thai Navy School of Music in 2003 and served in the government service as its musician in the Civil Division. In 2010, he earned his Bachelor of Music degree, majoring in horn performance, from the College of Music, Mahidol University. Since then, he has been back to the Royal Thai Navy School of Music to serve as a music teacher at its Education Division. His interest in the development of Brass Band in the Royal Navy led him to a deeper research where he found much important evidence.
Siravith Kongbandalsuk
Siravith Kongbandalsuk, a trombonist originally from Bangkok, Thailand. He has been awarded and participated in several international music festivals such as Ian Bousfield tenor trombone competition 2017 from British Trombone Society (UK) and Svirel International Music Competition 2016, Slovenia. Brass and Percussion Seminar and Solo competition 2013, Thailand.
With his interest in many kinds of music performance including classical music and contemporary music. He has performed internationally such as Thailand New Music and Art Symposium 2019 – 2020, Thailand International Composition festival 2018, Tokyo Media Interaction 2018, Kultur Kontakt Austria 2017 and Asian Composer League 2015. He has been a member and performed with many ensembles such as Bandung Philharmonic Orchestra, Thailand Philharmonic Orchestra, Netherlands Youth Orchestra (NJO), Nederland Student Orchestra (NSO), Princess Galyani Vadhana Youth Orchestra, Siam Sinfonietta and Southeast Asian Wind Ensemble (2010), Million Wind Philharmonic, Limburg trombone ensemble and QuarterBone Trombone quartet. Also, he is a member of Tacet(i) Contemporary ensemble which performs and participates regularly in many international music festivals.
Siravith has obtained his Bachelor's degree in classical trombone performance with Philip Brink at College of Music, Mahidol University, Thailand in 2010 – 2014, Master's degree in music performance at Conservatorium Maastricht, Netherlands with Bart Claessens in 2015 – 2017. Currently, Siravith is a full-time lecturer at Princess Galyani Vadhana Institute of Music.